The 2021 Subaru Love Promise Community Commitment Award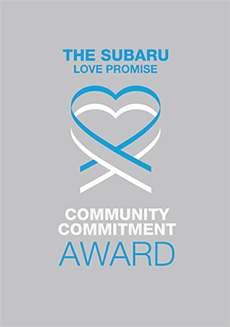 We've been nationally recognized for our dedication to our community and the Subaru Love Promise.
We're honored to receive the 2021 Subaru Love Promise Community Commitment Award. This award nationally recognizes Subaru retailers who are making the world a better place while demonstrating an outstanding commitment to supporting passions and causes in local communities. These efforts are focused in important areas such as the environment, community, health, education, and pets.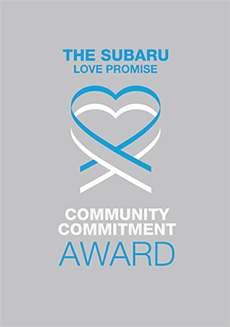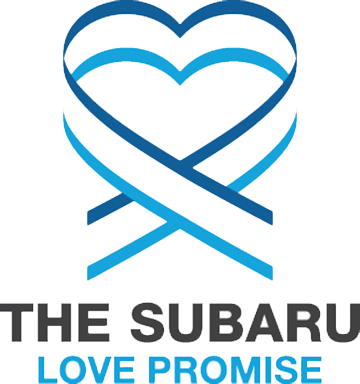 What is the Subaru Love Promise?
Subaru and our retailers believe in making the world a better place and the Subaru Love Promise is our vision of respecting all people. This is our commitment to show love and respect to our customers and to work to make a positive impact in the world.
How is Burlington Subaru dedicated locally to the Love Promise?
Our Love Promise can be seen in various partnerships with local charities and non-profits. We're grateful for the opportunity, not only to be a part of our community, but to serve it as well.
Chittenden County Humane Society
Prevent Child Abuse Vermont
Love Promise Stories from Burlington Subaru
Subaru and Burlington Subaru believe in making a positive impact on the communities in which we live and work. We uphold that belief through our Love Promise Community Commitment. Every month, we select inspiring stories from customers and partners from around our area who strive to support our collective commitment and feature them here
October Adoption Support - Diana H
The Humane Society of Chittenden County is incredibly grateful to our friends at Burlington Subaru for once again donating $100 for every dog & cat adopted during the month of October (up to $3,100). Throughout the month, we celebrated 149 adoptions! Thank you Burlington Subaru for your continued support and helping our organization care for more than 1,200 animals and their families each year. Together, we will continue to advocate for those in need and serve our community well into the future!
---
Neighbors Helping Neighbors - Marcy L
"People are longing for a sense of familiarity. Our monthly delivery provides people something to look forward to, a regular smile during uncertain times," said Nasse Salhi, Feeding Chittenden's Home Delivery Coordinator. Salhi, who has coordinated the Home Delivery program for over five years, works with older adults and people with disabilities. We recently spoke with Marcy, who loves to prepare nutritious food for her neighbors, and her chicken soup is a favorite: "I can never make enough, ever!" The food Marcy prepares comes from Feeding Chittenden's Home Delivery program. Marcy works hard to share what she can. "We help each other. It's the best we can do, especially right now– people are struggling just to pay the rent," she said. "It's really important that we share with each other." Everyone should have access to the nourishing food they need, and with the support of Subaru's Share the Love campaign, Feeding Chittenden has been able to increase food access to folks like Marcy, who are facing hunger.
---
HSCC Thanks Burlington Subaru - Diana H
The Humane Society of Chittenden County is incredibly grateful for Burlington Subaru's continued support. This summer marked our return to our annual in-person Walk for the Animals & 5K Doggie Fun Run, and we were fortunate to welcome back Burlington Subaru as our loyal event sponsor. As an independent nonprofit organization, HSCC depends on the generous support from our community members and businesses like Burlington Subaru. Their generosity helps strengthen our community programs & services and enables HSCC to care for and rehome more than 1,000 animals each year. Many thanks on behalf of the entire HSCC team!
---
Helping to Feed Chittenden County - Rob M
We are extremely grateful to Subaru's Share the Love program support. Especially during this year of Covid-19, we have seen a 38% increase in new visitors who have been displaced from work and in need of help with food. We increased our delivery of meals and groceries and at one point this year we're distributing 1400 meals a day to 14 temporary shelters throughout Chittenden county. We could not have done this work and much more deeding thousands of hungry Vermonters without the support of Burlington Subaru and the Share the Love program. We are extremely humbled and grateful for this generous and vital support. Rob Meehan, Feeding Chittenden Director
---
Helping the Fight Against ALS - JRW ALS G
For the 3rd year in a row, Burlington Subaru was a corporate sponsor for the Jeremy R. Williams ALS Golf Classic. ALS is a progressive neurodegenerative disease that affects nerve cells in the brain and spinal cord. ALS usually strikes people between the ages of 40 and 70, and approximately 20,000 people in the U.S. have the disease at any given time. Due to COVID, this year's tournament was held in limbo and eventually rescheduled to a later date and at a reduced capacity. Because of this, we felt it was more important than ever to continue with our corporate sponsorship for this event and to help fund the research that will one day lead to a cure for this horrible disease. We also had several employees step up and help with the organizing of the tournament and in maintaining a strong online presence. Although there is not yet a cure or treatment that halts ALS scientists have made significant progress in understanding what causes ALS. But their work is not done and that's why Burlington Subaru continues to support the hard work of the Williams Family via the annual Jeremy R. Williams Golf Classic to raise funds and awareness to fight this horrible disease. Amazingly, even with COVID happening this year's tournament raised over $32,000 which all gets donated to the ALS Northern New England Chapter. During such difficult times, Burlington Subaru is very proud to have helped the Williams Family make this such a success in 2020. We look forward to helping the Williams Family in the fight against ALS in 2021.
---
Local High School Students Wins New Subaru! - Hunter D
For the past 12 years, Burlington Subaru has partnered with local tv and radio stations for the annual Drive for Excellence program. Each year a deserving local high school Junior or Senior has the chance to win a brand new Subaru Impreza and is designed to inspire high school juniors and seniors to achieve commendable grades throughout the year. In recent years students also have the chance to win one of three $1,000 scholarships in addition to winning a new Subaru. Over the course of the school year, students from all over Vermont and northern New York register online and send in their report cards in the hopes of being selected as one of the 75 finalists invited to the final Grand Prize Giveaway at Burlington Subaru. At the event, finalists receive two raffle entries for each "A" and one for each "B" they have achieved, which serves as extra motivation for students to continue working hard throughout the year. For 12 years this program has run smoothly and then COVID happened. Between difficulty in collecting report cards with things being shut down, grades being changed due to state mandates at home schooling, and the expense of giving away a brand new car we had to stop and ask if the Drive for Excellence was still doable. It was decided that local students had so much taken away from them during their Junior and Senior years that Drive for Excellence would not be one of them. These students needed something to look forward to. Some adjustments were made to the rules for collecting and counting grades and the in-person gathering for the grand prize drawing was changed to a virtual drawing to comply with COVID guidelines. So at 6 pm on June 2nd, Burlington Subaru held the Drive for Excellence grand prize giveaway virtual event over Facebook Live. Hunter Dutton a senior at Montpelier High School won a brand new Subaru Impreza while Alyssa Savage and Lauryn Munson Juniors at Northeastern Clinton Central School and Autumn Parrott a Junior at Williamstown HS each received a $1,000 scholarship.
---
Keeping Children Safe - Ed B
Twin City Subaru has been a continuing supporter of Vermont's children and families. As you know life is very different today and there are many uncertainties that contribute to parental stress. Richard and his wife were struggling financially to support their 3 young children, when Richard was hurt on the job and began taking opioids for his pain. As you could image, things took a turn for the worst. His relationship with his wife and children deteriorated. With a divorce pending, financial troubles, stress about the pandemic and fear of losing his children, Richard sought help for his opioid use disorder. He was encouraged to enroll in the PCAVT virtual Nurturing Parenting Program, for families in recovery from substance abuse, which provided Richard with parenting and recovery skills. Richard loves his children and was determined to become the best parent that he could. After being in the program Richard reports "I have learned how to manage my stress and be a better father." He has been able to see his children more frequently and expects a final arrangement will involve significant time with them. Richard's son Kevin says, "I'm not scared of Daddy anymore." This is a great story and Twin City Subaru helped make Richard a better parent. Thank you for the support!!!
---
Burlington Subaru Supports Local Humane Society - Diana H
Despite 2020's challenges, Burlington Subaru's commitment to the Humane Society of Chittenden County has been unwavering. Not only was HSCC lucky enough to count Burlington Subaru as a sponsor this year for our major fundraising events, but HSCC was also selected to participate with Burlington Subaru in the Subaru Loves Pets campaign & 2nd Annual National Make a Dog's Day. Over the month of October, Burlington Subaru & Subaru of America donated $100 for every cat and dog adoption (up to $3,100). We also must thank them for the adorable donated pet kits, each filled with Chewbarus & other fun toys for adopters and their new furry family members. HSCC is immensely grateful for Burlington Subaru's lasting support and friendship. Thank you all so much! Diana & the HSCC Team
---
Burlington Subaru Helping the Fight Against ALS - Theresa W
ALS is a progressive neurodegenerative disease that affects nerve cells in the brain and spinal cord. ALS usually strikes people between the ages of 40 and 70, and approximately 20,000 people in the U.S. have the disease at any given time. Although there is not yet a cure or treatment that halts ALS,scientists we fund through our global research program have made significant progress in understanding what causes ALS. But their work is not done and that why we, the Williams Family, have founded the Jeremy R. Williams Golf Classic to raise funds and awareness to fight this horrible disease. This year was the tournament's second year and raised over $33,000 which all gets donated to the ALS Northern New England Chapter. Burlington Subaru went above and beyond to help make this tournament a success! Not only was Burlington Subaru a presenting sponsor but several employees also gave generously of their free time hosting fundraisers prior to the tournament, organizing raffles items and participating in the tournament. Words cannot adequately express how much the support of Burlington Subaru has meant to be able to make this tournament a reality! Thank you Burlington Subaru. Sincerely,The Williams Family
---
Thank You Burlington Subaru! - Diana H
Year after year, Burlington Subaru supports HSCC in a number of ways. In 2019, Burlington Subaru sponsored our three annual events, held fundraising drives at their location, donated dog toys to adopters, held a canister to collect donations, and helped promote animals waiting to find their home. We are so grateful for Burlington Subaru's continued friendship and support. Thank you Burlington Subaru! From all of us at HSCC (two & four legged)
---